Description
Best Selling Leash
The double length lead, one of our most popular items, made to be used at 2 different lengths and ideal for training the walk to heel and matches nicely with our dog collars. The beauty of these leads are they are soft and strong, they last forever and with our Lifetime Stitching guarantee, you have peace of mind.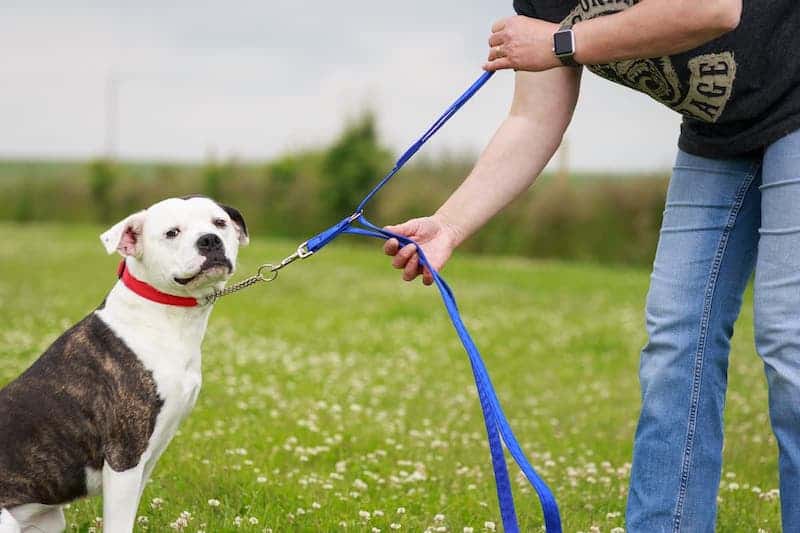 Many people buy a collar to match as all our leads can be matched with dog collars too. They come in a selection of colours, but the good old favourites of black, red and navy are the most popular.
How does it work?
This leash is made with a trigger hook and an O ring at one end, with an O ring on the handle too. When you pull the webbing through the O ring at the bottom and feed it through, it comes to a stop at the O ring on the handle, making the lead half its' length.
It can be used at full length with a handle at the end or half-length when the bit you hold is the halfway point.
A Personal Favourite
The double up lead is a top recommendation. The 2-metre double length dog lead at 1 metre it is an ideal walking length. At 2 metres fully extended it gives your dog a bit more sniffing freedom and room to investigate his sensory environment. For full off lead walking, the 1 – 2-metre lead can be put over your shoulder. You can then enjoy your walk with your pooch. Also comes in longer lengths so you can choose the ideal length for you and your dog.
All our dog leads come with a lifetime stitching guarantee. So you can rest assured that in the unlikely event your lead develops a stitching defect, we will replace it for you completely free of charge.
Use of the Double Length Lead
This leash is ideal for close work such as training the walk to heel or road walking (close to traffic). The webbing we used is called cushion web, and that's just how it feels in your hands.
If you want to let your dog off the lead, the double-length dog lead can be looped over your shoulder.
Alternatively, this leashes' unique design means that within 2 seconds you can double the length of it, giving your dog a bit more freedom to stiff around at all those interesting smells.